Jump into Spring! Tips for Cleaning Your HVAC Unit
Just like your home, the HVAC system may benefit from a spring cleaning.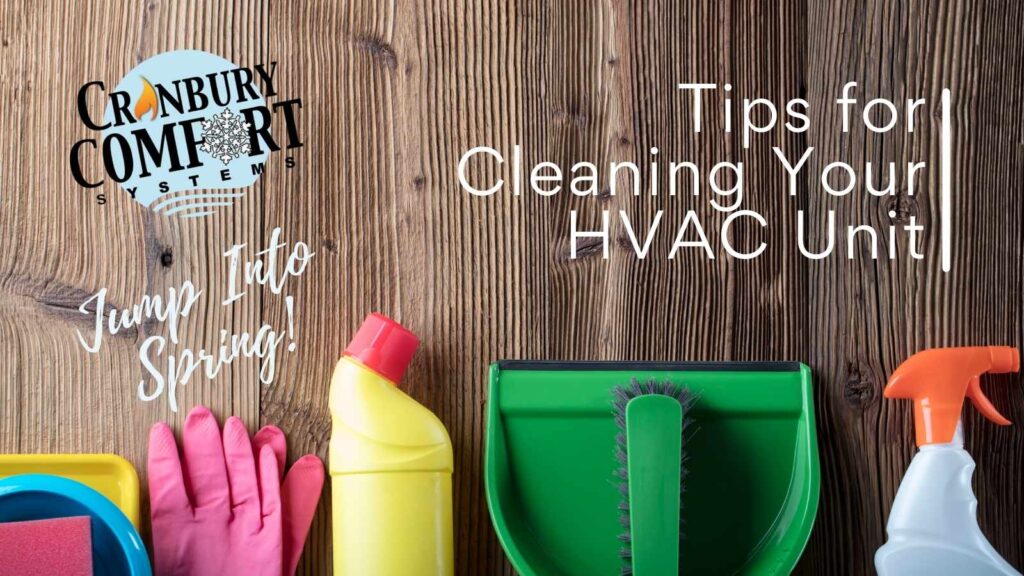 Spring has arrived, and we are enjoying extended daylight hours and pleasant warmer weather. Before too long, it will be time to turn on the A/C for the first time this year.
Here are a few essential tips for cleaning your HVAC unit to keep your system in good operating condition and working efficiently:
Air Filter – Regularly changing your air filter is crucial in keeping your unit working efficiently and optimizing the quality of the air you are breathing. Filters accumulate dust and dirt rapidly, so get in the habit of cleaning or changing it regularly, like the first or last day of each month.
Condenser – The condenser is the unit outside of your home. Keeping the area surrounding the base and sides clear of leaves and debris is essential. For the spring and summer, you can use a weed control solution to keep the area clear.
Leaks – Leaks in the air duct system is like throwing money out the window because the cool air is escaping. Sealing those leaks will ensure that your HVAC system is working at peak efficiency while saving you money.
Tune-up – Your HVAC system is mechanical, and just as you have your car regularly serviced, the same is true for having an HVAC tune-up on a regular basis. One of our professionally trained technicians can do a full inspection including checking the refrigerant level, leaks in the duct system and ensure that all other parts are in top working order. The technician can immediately resolve any issues before a potential problem arises and turns into an emergency.
Upgrade – Before summer is in full swing, consider upgrading your old HVAC system to a new, more energy-efficient model, which will help lower your monthly utility costs. A programmable thermostat is an excellent option for maintaining the perfect temperature during any season, and a customizable schedule will help to optimize the lifespan of your unit. You can even control some WiFi thermostats remotely from a computer or smartphone!
Choose Cranbury Comfort to keep your home comfortable all year long.
Let us know how we can help you with your HVAC system. We do everything from routine maintenance to complete installations. Contact Cranbury Comfort Systems today so we can help keep your home cool this spring and summer.
Call 609-625-0200 for 24-hour emergency HVAC service.
Follow us on Facebook: https://www.facebook.com/cranburycomfort