Cranbury Comfort is proud to offer our Second Opinion HVAC Service Technician Program*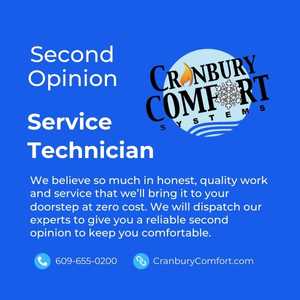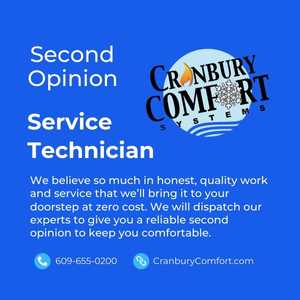 We often hear from clients recently receiving information from their utility company or another HVAC professional that they require unexpected major repairs or even full system replacements. This concerning news often shocks most homeowners, especially when that news is delivered during routine maintenance and everything seems to be working just fine.
*Cranbury comfort is happy to lend a second set of well-trained eyes on these matters with our Second Opinion HVAC Service Technician Program! This is a free program for all existing and future customers.
We believe so much in honest, quality work and service we'll bring it to your doorstep at zero cost. We will dispatch our experts to give you a reliable second opinion to keep you comfortable.
Call our team of qualified technicians at 609-655-0200 and contact Cranbury Comfort here to get peace of mind for your HVAC questions/concerns.
"Cranbury Comfort tech, Edward, did our A/C service. He arrived on time and was very professional and courteous. Checked out the system and explained that it was in good shape and should probably last a good while. Further, on his own initiative, he noted that the condenser was out of level and went ahead and leveled it out. He explained the procedure he used and said that it should run better now with less stress on the system. I would note that I had asked other techs about this and had been told that I could level it if I wanted but never advised that it should be done nor offered to do it. In my opinion, Edward went above and beyond in servicing our unit. He is to be commended for excellent work and I will certainly recommend him and Cranbury Comfort to others!" – Jerry, Google Review
How Do You Know if you Need a Second Opinion from our HVAC Service Technicians?
Feel Pressured
When you have an experienced professional in your home for a service call(no heat/no cooling) or the annual "routine check-up," the last thing you're expecting to feel is pressured into buying. If your last "checkup" has you second-guessing, then it's time for a second opinion.
Extremely high estimate
If you receive an estimate for the HVAC Repair/furnace replacement and the cost seems exorbitant, you will want to get a second opinion. These are the easy ones to spot. Usually, they come with a "next day installation" or a "you don't pay us until you're comfortable" type guarantee (usually sold under the premise that you sign the contract on the spot). Very easy to spot and very easy to avoid. You should never feel pressured in the comfort of your own home. Take your time and get a second opinion.
Is the repair the right fit for the problem?
Modern HVAC equipment requires regular preventative maintenance to keep running smoothly for years after the manufacturer's warranties expire. These maintenances are done seasonally. At these times, it may become apparent to a technician that a part or component is nearing the end of its operating life, and this will be brought to your attention. Now, these are not high costs.
If everything has been working properly and this is a preventative measure, it should not be bank-breaking. While we can maintain systems for many years without replacing parts or the system itself, you may incur the dreaded service call every now and then when your heat or air conditioning stops working.
Outside of refrigeration problems, electronically controlled motors, and cracked heat exchangers, the fixes to these problems, while annoying, should not be half the cost of a new system. If you feel like your recent repair quote seems a bit high, or if the quote includes items in addition to the immediate fix to your problem without explanation, you should seek a second opinion.
Become Informed of your HVAC Major Repairs and Furnace Options
With over 40 years of serving the local community, Cranbury Comfort is available to answer all your questions and develop a customized solution for your HVAC needs. Call our team of qualified technicians at 609-655-0200 or contact Cranbury Comfort here.