Spring is a tough time of year for allergy and asthma sufferers.
The blooming trees, flowers, and plants are a welcome sight after a bleak and dreary winter buried in snow, but the pollen-filled air wreaks havoc on the sinuses. After going out into the world to work, to school, or just to check the mail, those with seasonal allergies will want to retreat back into their homes so they can breathe clean air again. The problem is, unless you have intentionally created an atmosphere of clean air in your own home, you will suffer in the same way in the very place that should be a safe haven for you.
There are a variety of ways you can give yourself clean air at home.
Himalayan salt lamps, house plants, and vacuuming will only get you so far. Even if you are diligent to take all these steps and more, the air in your home will not be the cleanest it can be. Installing an air cleaner is the most efficient way to purify the air in your home.
Trane, a leading HVAC company, has produced a top of the line air quality cleaner purifier called CleanEffects™. This new system outperforms other whole house air quality purifiers on the market.
Benefits of CleanEffects ™:
Trane CleanEffects ™ Air Cleaner removes 99.98% of airborne allergen particulates such as dust, pet dander, and pollen. Other air cleaners do not filter out the smallest sized particles. The Clean Effects also takes care of odors.
It is certified by the Asthma and Allergy Foundation of America. The foundation desires people to know that CleanEffects ™ can help people with asthma and allergies live well.
It is highly efficient. Other air cleaners have filters with very small holes so that the filter can trap the dust and other particles while letting air flow through. The problem is that the denser the filter, the harder it is for air to circulate in your home causing problems with your heating and air system because of the buildup of pressure. Since CleanEffects ™ has a revolutionary type of filtering system, there is no high-pressure buildup.
The CleanEffects™ filter is more effective than a HEPA filter.  Plus, there is no need to replace any filters. Simply vacuum or rinse off (depending on the model) the filter when the indicator light goes off once every 1-3 months. There is an easy step-by-step video by Trane here demonstrating how easy the process is. Although you could do the quarterly cleaning yourself, it is recommended that the annual complete cleaning of the CleanEffects™ be done by an HVAC professional for best results.
Runs quietly. Since it works with your existing furnace, you won't even know it is there.
Provide clean air for your family by installing the Trane CleanEffects™ whole-house air cleaner in your home.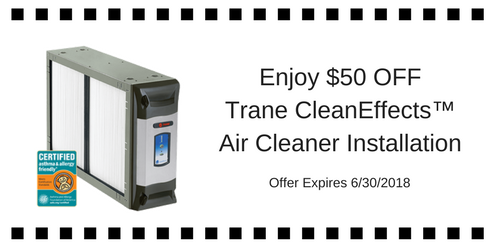 If you live near Allentown, Cranbury, East Windsor, Princeton Junction, Monroe, South Brunswick or surrounding areas of New Jersey, contact Cranbury Comfort to schedule an appointment for a FREE ESTIMATE.