Heat pumps have grown in popularity over the years. One of the many things people enjoy is that they can help consumers save on their utility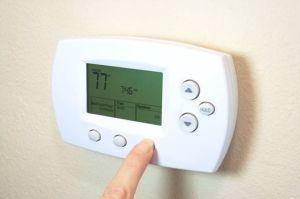 bill. There are many benefits of heat pumps as well as some limitations.
One benefit is simply convenience. Heat pumps allow you to change the temperature of your home with the touch of a button. They can heat up a room or cool it off in just a few minutes. Another great quality is that when you leave your home, you can leave your heat pump on and return to a temperature you are comfortable with.
Unlike gas heaters or wood burning stoves, there are no hot surfaces or flames that can potentially harm your kids or pets. It is also completely safe to keep them on while you are sleeping. Using a heat pump improves air quality because they do not create any smoke or harsh fumes. Heat pumps are a much better choice for those who suffer from asthma or allergies.
One downside of heat pumps is that when the temperature outside drops below freezing, the heat pumps ability to efficiently heat the home diminishes. At this point, the auxiliary heat strip will power on. The heat strip produces a significant amount of heat but it is costly to operate. Some people find that the fans and compressors can be a bit noisy as well.
What one person finds appealing about heat pumps, another may not. Ultimately the decision to have a heat pump installed in your home is yours. Make sure you consider all of the pros and cons before you make your decision. If you simply can't decide, trust the professionals at Cranbury Comfort Systems to help you decide if a heat pump is right for you. We are a family owned HVAC company that has been servicing your community since 1976.
All Rights Reserved
Cranbury Comfort Systems
65 N Main St Ste 490
Cranbury, NJ 08512
(609) 758-5600
https://www.cranburycomfort.com/
info@cranburycomfort.com